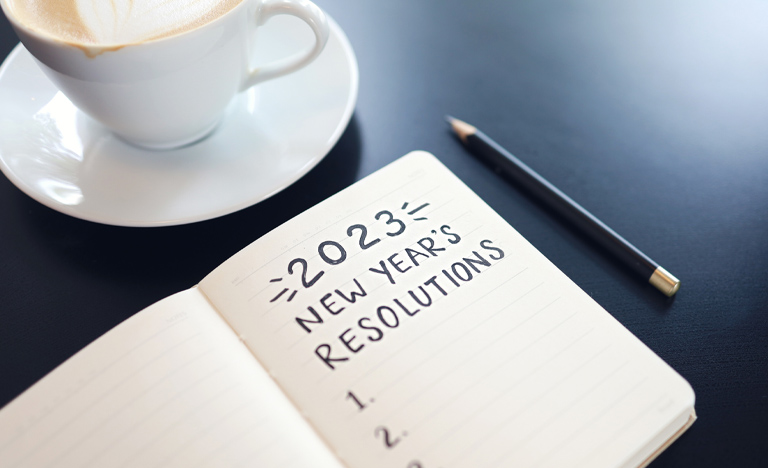 It's that time of the year when we promise ourselves we're going to be better. For many that will mean improving their health –by going to the gym, practicing healthier eating habits, quitting smoking/vaping or all the above. If your New Year's resolution is to improve your health, don't forget about your oral health! Here are a few tips to help you improve your oral health this year:
Brush your teeth properly
Use a small amount of toothpaste and, while holding the brush at a 45-degree angle, brush with short gentle strokes for two to three minutes. Read more about brushing.
Floss more regularly
Flossing is an important part of any oral health regimen. If you don't like to use floss try dental picks, water flossers or pre-threaded flossers. Increase the regularity of your flossing and make it a part of your daily habit! Read more about flossing.
Eat less 'junk' food
Eating a healthier diet brings a whole host of benefits, including improving your oral health. Include whole-grains, nuts, fruits and vegetables, lean proteins and calcium-rich foods in your diet. These will have essential nutrients and minerals to help build strong teeth. Get more nutrition tips.
Drink more water
Drinking water is just good for you. Your body needs it and it helps to flush away food particles and enamel-corroding substances like sugars and acids. After eating, drink some water. Your body will thank you! See more oral health basics.
Quit puffing!
No matter if you're smoking tobacco or using a vape, doing so has a negative impact on your oral health. Smoking carries a risk of causing oral cancer and vaping can lead you to inhale harmful chemicals. If you smoke or vape, the best thing you can do is stop. Your mouth will thank you. Read more about smoking and vaping.
Visit your dentist!
A regular check-up is vital to keeping your mouth in the best shape and identifying issues before they become a problem. We recommend visiting at least once a year! Read more about the importance of dental exams.
This year, when you make your New Year's resolution, don't forget your mouth! Good health includes good oral health