A Proposed Framework for the Canadian Dental Care Plan
Dentists know what makes a good dental care program
November 15, 2023 – Dentists across the country share a common goal: to promote optimal dental and oral health for all Canadians. The Canadian Dental Care Plan (CDCP) is an historic opportunity to give all people in Canada increased access to dental care. If done right, the CDCP could be one of Canada's greatest achievements in public health.
As the experts in oral health – and the healthcare providers who deliver dental care – we know what a good dental program should look like, and we want to help the federal government make the CDCP a success.
That is why dental associations across Canada came together to develop A Proposed Framework for the Canadian Dental Care Plan. It is a comprehensive and actionable framework for a strong dental and oral health care program based on data, research, and input from dental experts.
A successful CDCP should:
In addition to the proposed framework, we urge the federal government to:
Until the federal government can deliver a strong CDCP, we recommend at least a temporary expansion of an initiative that is already working for Canadians – the Canada Dental Benefit. This is a fixed dollar amount that a patient can use to be reimbursed for dental-related expenses. Nearly nine out of 10 Canadians support the Canada Dental Benefit, and public surveys suggest that most would support an oral health spending account as a permanent solution.
The dentists of Canada want to champion a CDCP that will respect patients, providers, and taxpayers. We all deserve a plan that works.
Please read our CDCP Frequently Asked Questions page for more information on the CDCP.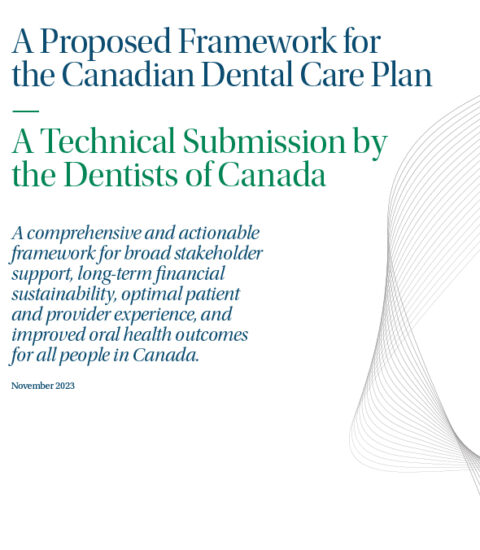 A Proposed Framework for the Canadian Dental Care Plan
Read the full technical submission by the dentists of Canada.
Related Resources