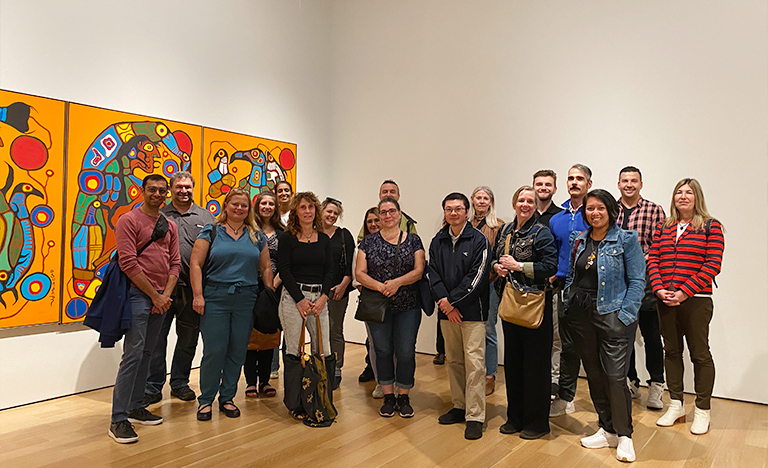 ODA staff members at the Art Gallery of Ontario
The Ontario Dental Association believes that all Ontarians should have access to quality dental care. With that said, we understand that systemic inequities continue to exist for Indigenous communities across the province and throughout Canada. These are the result of colonialism, anti-Indigenous racism and social exclusion.
The ODA is taking steps to be part of the solution. This year, in recognition of the 10th anniversary of Orange Shirt Day, the ODA's employees spent a portion of their day listening to Orange Shirt Day founder Phyllis Webstad tell her story about attending a residential school. They also visited the Art Gallery of Ontario where they had a guided tour of Indigenous art with a focus on Indigenous culture and history.
It's incredibly important to recognize the lasting impact of Canada's residential schools. At the ODA we continue on our journey of learning and listening.
In 2021, we began the process of consultation and collaboration to become stronger allies and trustworthy partners to Indigenous communities in Ontario.
Our work in this area continues. We are committed to working with Indigenous communities to:
Build and improve on culturally aware oral health-care education.
Advocate for clean water and food security in First Nations communities (including access to fluoridated community water supplies).
Empower Indigenous communities to be actively involved in determining and controlling oral health programs affecting them.
Also, since 1982, the ODA and its members have been providing dental care services to Indigenous communities across Northern Ontario through our Remote Areas Program, and this is a program we hope to be involved with for generations to come.
We remain now, just as we were in 2021, committed to our journey towards reconciliation.