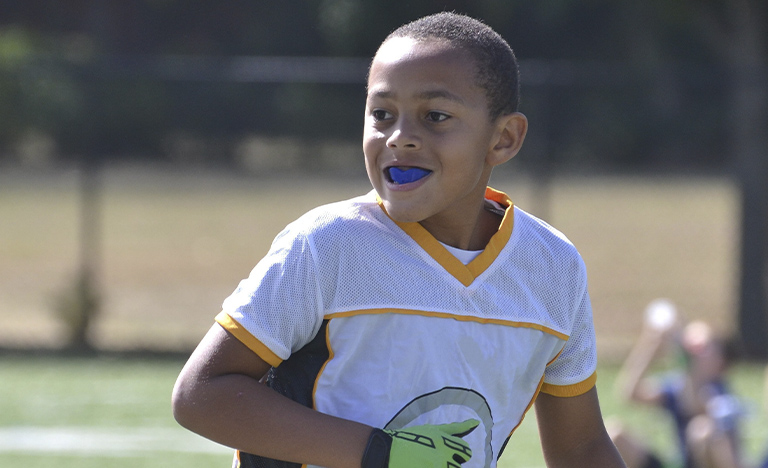 With the start of hockey season beginning and football season well underway, it's a great time to think about how important mouthguards are for people playing sports. In 2019, we spoke with Dr. Charles Goldberg and Dr. Marvin Lean, team dentists for the Toronto Maple Leafs, about the importance of mouthguards. Here's what they told us:
Why are mouthguards important?
"You think if someone gets hit by a puck or a fist or a stick, it's just going to break their teeth, but if the blow is severe enough, other things can happen," said Dr. Goldberg. A mouthguard can not only prevent broken teeth it can protect against jaw fractures and concussions, as well as stop teeth from being pushed up or pushed back into the palate.
Do I need a custom-made mouthguard?
Custom-made mouthguards fit perfectly, covering the teeth and providing the most protection. A good fit means they will not slip off the teeth, fall back and block the airway, and they also allow the player to communicate with their teammates.
"Custom-made mouthguards provide the best comfort and protection. Mouthguards don't last forever and need to be checked for fit and wear regularly and replaced as required," said Dr. Lean.
I wear a full cage helmet. Do I still need a mouthguard?
Yes, a mouthguard is still recommended.
"If they (an athlete) get hit, the mouthguard protects them from the initial blow and helps to absorb the shock," said Dr. Lean.
I don't play hockey or football. Do I need a mouthguard?
Dr. Goldberg says anyone playing a contact sport or sport with a ball, racquet or stick should wear mouth protection.
The bottom line is that mouthguards are important for all athletes. In addition to the benefits of custom-made mouthguards listed above, there is one last factor to take into consideration: they can be fun! Custom-made mouthguards can be made in different colours and include your favourite team logos! Talk to your dentist about whether a mouthguard is right for you or how to get one custom-made.
---
This article is adapted from the 2019 Spring/Summer issue of Your Oral Health. Read the full article or learn more about mouthguards on our website.